Write News
BHU violence: Heads roll as PM Modi speaks to CM Adityanath, committee set up to look into incident
Posted on
26th Sep 2017 06:26 am
by
admin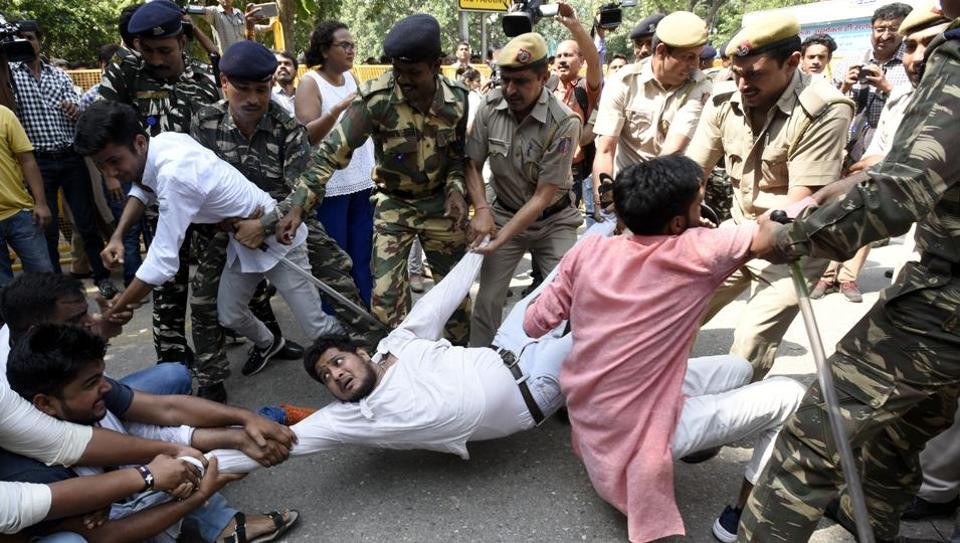 Heads rolled after the arson and violence in Banaras Hindu University (BHU) as the Uttar Pradesh government transferred three additional magistrates and two policemen on Monday.
Several students, mostly women, and policemen were wounded in clashes after university guards and cops cane-charged protesters in front of the vice chancellor's home and at the main entrance to the century-old institution's sprawling campus around Saturday midnight.
Stones were reportedly thrown at police and vehicles set ablaze during a protest against alleged molestation of a hosteller. The students were demanding bringing the culprits to justice, which they alleged the university authorities had refused.
The campus unrest drew flak against chief minister Yogi Adityanath as Congress vice president Rahul Gandhi and Samajwadi Party chief Akhilesh Yadav hit out at the BJP government for the police action.
Prime Minister Narendra Modi and BJP chief Amit Shah spoke to the chief minister, while Union minister Nitin Gadkari said in New Delhi an inquiry into the violence is underway.
In Lucknow, governor Ram Naik said a committee, headed by the chief secretary, was constituted to look into the protest over an alleged harassment to a student.
Protesting against the police action, the National Students Union of India (NSUI) and the Akhil Bharatiya Vidyarthi Parishad (ABVP) staged demonstrations in New Delhi.
The RSS-affiliated ABVP demanded a fact- finding committee, while the Congress-backed NSUI sought an inquiry by a sitting high court judge and resignation of the BHU vice chancellor.
In Patna, rebel JD (U) leader Sharad Yadav blamed the BJP governments at the Centre and in UP for the "barbaric" lathi-charge on the students.
Police said an FIR had been registered against more than 1,000 students in connection with the violence and against policemen involved in the lathi-charge.
"Separate FIRs have been registered at Lanka police station in connection with the violence," an officer said.
The state government removed station officer of Lanka police station, Rajiv Singh, while deputy police superintendent Nimesh Katiyar was moved to the accounts section, police sources said.
Sanjiv Mishra will take over from Singh while Ayodhya Prasad comes in for Katiyar, they said.
According to a statement from the Varanasi district information office, three additional city magistrates — Manoj Kumar Singh, Sushil Kumar Gaund and Jagdamma Prasad Singh — were transferred.
The violence broke out after police forcibly removed protesting students from outside the vice chancellor's residence and a campus gate. They were protesting against the failure of the authorities to act against motorcycle-borne men who allegedly molested a university student.
The students alleged that campus security and police hit them with lathis, pulled many of them by their hair and dragged them.
The fracas forced BHU to advance its Dussehra break by three days from September 28 to September 25.
To prevent the unrest from spreading, the district administration decided to close Dr Sampurnanad Sanskrit University, Mahatma Gandhi Kashi Vidyapeeth and their affiliated colleges.
A press communiqué said district magistrate Yogeshwar Ram Mishra instructed closure of universities and colleges from Monday.
The decision was taken in view of intelligence reports that students of other universities and colleges may take to the streets in protest against the lathi-charge on BHU students.
0

0

Other news
Jaipur's royal wedding an India, Pakistan affair

Jaipur, Feb 21 (IANS) Over 3,000 guests attended the lavish wedding here of a Pakistani groom a
Geelani meets Pakistan high commissioner

Srinagar, March 9 (IANS) Hardline Kashmiri separatist lea
Work on two power projects has started: K. Rosaiah

Chennai, Feb 17 (IANS) Tamil Nadu Governor K. Rosaiah Tuesday said work on two power projects i
Bhushan, Yadav accuse Kejriwal of "horse trading"

New Delhi, March 27 (IANS) AAP leaders Prashant Bhushan and Yogendra Yadav on Friday accused th
HC seeks report on how dead bodies handled in hospitals

New Delhi, March 18 (IANS) The Delhi High Court on Wednesday sought a detailed report from the