Write Jokes
Alia Bhatt in Aap ki Adalat
Posted on
29th Jan 2015 07:47 am
by
mohit kumar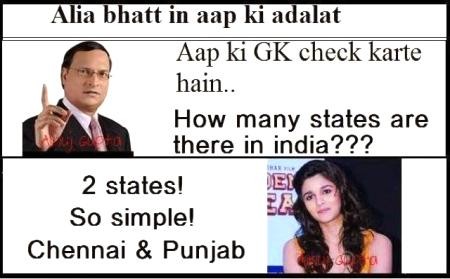 2 States!!
0

2

Other jokes
EIFIL TOWER
AN OLD COUPLE ON HONEYMOON IN PARIS. WIFE-PEHLE EIFEL TOWER CHALE YA HOTEL ROOM ? HUSBAND-PAHLE HOT
Sardarji's Chinese kid
Sardarji got the fourth child.
He fills data in the birth certificate. "Mother: Sikh.
F
Alok Naths request to Mark Zuckerberg

Alok Nath meets Mark Zuckerberg
.
.
.
.
.
.
and Reques
पत्नी (पति के बर्थडे पर): क्या गिफ्ट दू
Girls with friend's request problem...

To Every girl suffering from many friend's request on
Facebook..!!
.
.
<