Write News
More rain, snow forecast in Kashmir; highway still shut
Posted on
9th Mar 2015 11:09 am
by
mohit kumar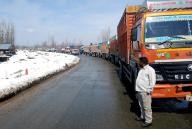 Srinagar, March 6 (IANS) Jammu and Kashmir is likely to receive more rain and snowfall in the next 24 hours even as the Jammu-Srinagar highway remained closed for the 5th day on Friday.

The strategic Jammu-Srinagar highway is likely to be opened for one-way traffic tomorrow, authorities told IANS here.

The over 300-km long highway which connects the landlocked Valley with Jammu and the rest of the country was closed on Monday after incessant rains and snowfall triggered landslides at various places along the route.

The closure of the highway has left more than 4,000 people stranded in Jammu.

"The Border Roads Organisation has cleared most of the area along the highway. They are now clearing the road in Ramban area. If weather permits, the highway will be thrown open by this evening and vehicles will be allowed to move from Jammu to Srinagar tomorrow," an official said.

Meanwhile, the minimum temperature in summer capital Srinagar was 0.9 degree Celsius Friday.

Kargil town in Ladakh region was the coldest in the state at minus 11.8 degrees Celsius while Leh town in the same region recorded minus 4.7 degree Celsius.

In Jammu city the minimum overnight temperature was 9.7 degree Celsius.

"There is a forecast of moderate rain and snow with heavy falls in the upper reaches of J&K at a few places on March 8 and 9," a Met department official said.
0

0

Other news
Kohli ton guides India to 300/7 against Pakistan

Adelaide, Feb 15 (IANS) A splendid century by vice captain Virat Kohli guided India to 300/7 in
IRDAI to issue regulations to govern Lloyd's syndicates

Chennai, March 13 (IANS) India's insurance regulator will
Kolkata, Jan 2 (IANS) A rock music concert amidst the serene hills of north West Bengal will be
It's Congress vs BJP over IPL matches in Himachal

Shimla, April 10 (IANS) The political game over non-allocation of Indian Premier League (IPL) m
Monday, Delhi experienced a chilled morning.

The National capital of India Delhi, experienced a cloudy shilled